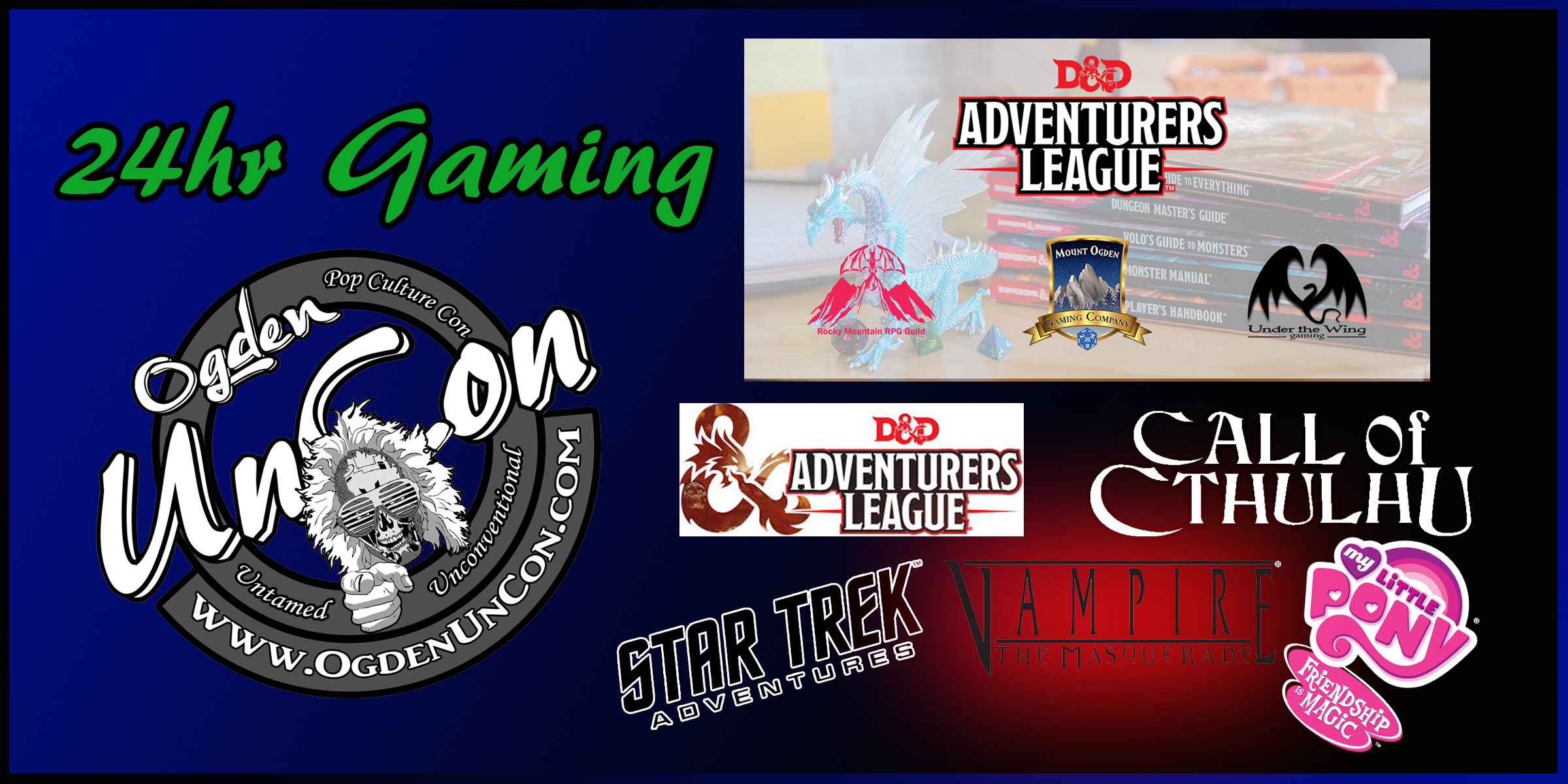 24hr Gaming at Ogden Uncon
Ogden UnCon knows convention gamers are hardcore! For that reason, we will host a 24hr Gaming Room where attendees can game their little hearts out. Prepare for a barrage of battles with D&D, Star Trek Adventures, My Little Pony: Tails of Equestria, Vampire Masquerade, Call of Cthulhu, Magic the Gathering, and more!

Ogden UnCon's 24hr Gaming Room is led by the gaming titans at Under the Wing Gaming! We will keep you up all day and all night. You'll game until you're delirious, because at Ogden UnCon we are all about the attendees' convention experience.

If 24hr gaming isn't enough, we have also worked with Ogden Eccles Conference Center to create a dedicated snack concession just for you.

Now lets go into a little bit of detail about some of the programming Under the Wing Gaming has in store for you.


D&D
Are you ready to roll up a rogue, create a cleric, or fashion a fighter? Grab your dice and join us for the world's greatest roleplaying game. Dungeons and Dragons will have a massive presence at Ogden UnCon. If you've never played but always wanted to, we'll have everything you need to take the first steps in your adventure.
Dungeons and Dragons Adventurers League, the organized play system for D&D will be running adventures for all tier levels
A dedicated team will be available to help build your first character
24-hour Dungeon Crawls for those true adventurers that are up to the challenge.
Ogden UnCon adventures created for the convention. Be the first to play it before 3 all-new adventures for Dungeons and Dragons Adventurers League.

Star Trek Adventures
Starfleet is looking for a new crew! Prepare for missions taking you to edges of unexplored space or come to the aid of Federation colonies. Test your diplomatic skills to avoid conflict or grab your phaser if it fails. Engage a Borg cube and resist assimilation. Your ship and crew represent the best the United Federation of Planets has to offer, are you ready to explore strange new worlds and seek out new life and new civilization?
Star Trek Adventures implements the 2d20 game system and offers unique challenges and opportunities for amazing gameplay. With missions set in both the original series timeline as well as the Next Generation, the options are wide open for what you may encounter. Pull up a chair, grab your dice, and Make it So!
Experienced Game Masters will walk you through the game and teach you the rules while you play.
Choose your missions between The Original Series or The Next Generation setting.
Pregenerated character sheets will be available for you to choose from or bring your own officer.
Ogden UnCon will be part of the Star Trek Adventures Living Campaign. Help shape the future of the federation.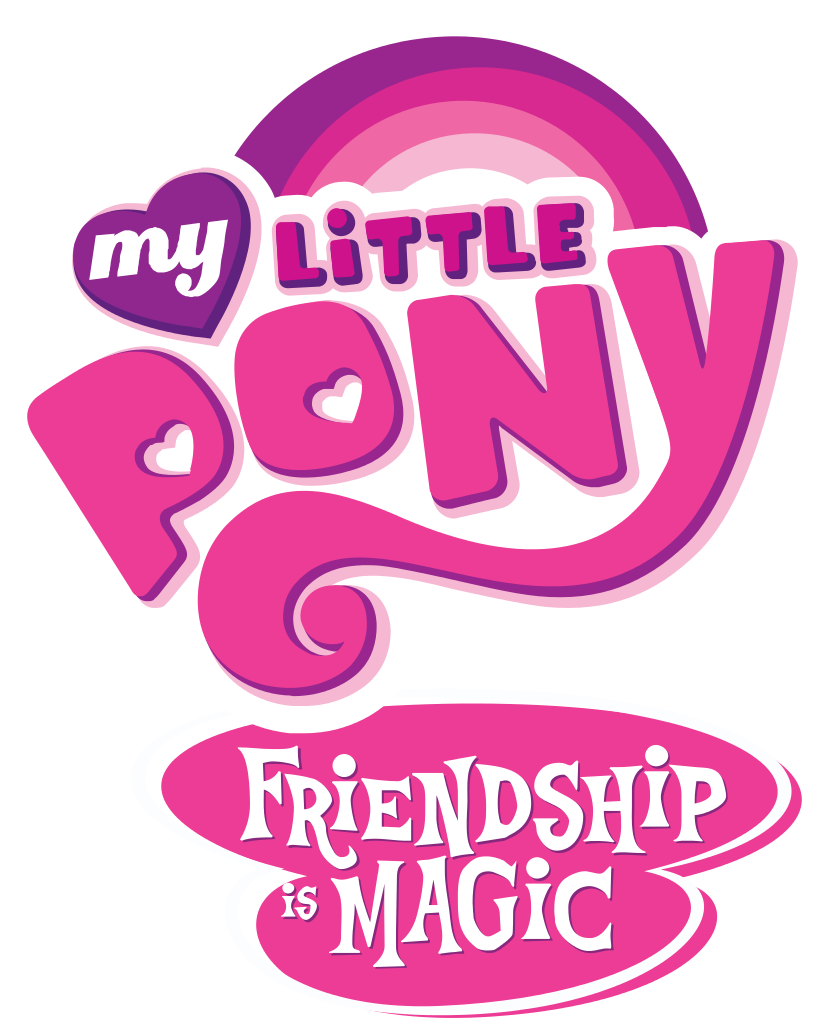 My Little Pony: Tails of Equestria
No Kidding!

You've delved the Underdark and battled dragons. Battled the forces of the empire bringing balance to the force. You've even gone up against the Borg and walked away without being assimilated. But are you ready for your biggest adventure yet? Grab your dice and prepare for adventure in the land of Equestria facing perils only the Mane Six have ever had to face.
My Little Pony, Tails of Equestria puts you in the boots…um, hooves, of your very own pony character. Whether a fan of My Little Pony or not, brand new to RPGs or an experienced player, Tails of Equestria provides an easy to learn game system with enough freedom to have fun for hours. Bring the whole family to the table for this one and remember that friendship is magic!
Experienced Game Masters will help you create your pony and walk you through the rules during gameplay.

Vampire Masquerade
When the sun goes down the terror rises! Become the vampire and struggle for survival, supremacy, and your own fading humanity as fight the hunger within. Join us as we run the newest edition of the game that changed roleplaying games forever.
Experienced narrators will guide you through creating your vampire and teach you the rules through gameplay.
Games will be playing through the night.
Mature content warning: This game contains graphics and written content of a mature nature.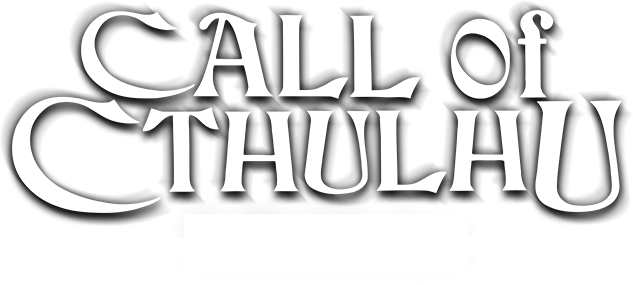 Call of Cthulhu
Become the investigator and uncover the secrets of the cosmos. No swords or magic, just humans battling cults of creatures from beyond space. Call of Cthulhu places you, well over your head, into the mind-shattering horrors of the Lovecraftian mythos. Can you keep your sanity while attempting to uncover the dark sinister plots of everyone around you?
Experienced Keepers will guide you through creating your investigator and teach you how to play.
Games will be playing through the night.
Mature content warning: This game may contain content that is not suitable for everyone.

MAGIC the Gathering

TBA
Panels
Ogden UnCon will have published RPG adventure authors and GMs with years of experience and nothing but the love of passing on their knowledge to everyone.
· World Building
· Memorable NPC and villain creation
· Running a game
· Writing and self-publishing adventures
· DM Tips and Tricks
· More to come!
Have an idea for a panel you'd like to see? Let us know.
Our Programming
D&D


Star Trek Adventures


My Little Pony


Vampire Masquerade

Call of Cathulhu